I'm sure you've all been to the fabulous blog
Cup of Jo
. Joanna Goddard is a magazine writer and editor turned blogger who lives in NYC with her two baby boys and her delightful husband. She has tons of great insight to offer in her posts, from the latest in fashion to being a working mom to great recipe ideas to being a proud feminist. I love her blog, and I sort of want to be her.
Especially afte
r today's post. Check out Joanna's latest entry, 15 Career Tips From Smart Women.
I'm like dang, Joanna. I wish I put these together! It's a great collection of quotes from famous badass ladies offering advice on many aspects of being a working woman.
My favorite (ok, they were ALL my favorite, but this is a favoriter) is this one:
I used to dream about one day being at Wimbledon. I could taste the strawberries and cream, I could see myself curtseying there at center court. And I didn't make it there, obviously, as a tennis player, but let me tell you even though I had a mic in my hand instead of a tennis racket for ESPN when I went to cover it for the first time; to me it was like 'check! Wimbledon.' You have to be creative in reaching your goals and I think that's what really helped me so much in my life both professionally and personally. Just not being too rigid. Having goals and setting goals, but being flexible with them and knowing that it might not quite look like how I think it's going to look and that's okay.
Robin Roberts
But definitely check out the post to see them all. I seriously want to print them ALL out and put them ALL over my office. I think that's what I will do right now.
And the great news is Joanna will be featuring career-themed posts all week, so check back on her blog for more updates!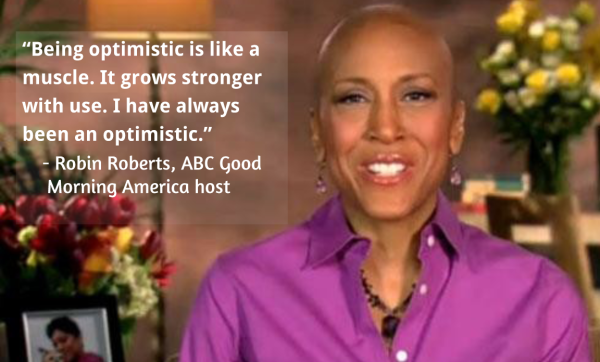 This isn't one of the quotes from Joanna's blog. But I went a little Robin Roberts-crazy after that last quote and had to find more amazing quotes by her. She's got a ton of inspiring bits of wisdom to offer!