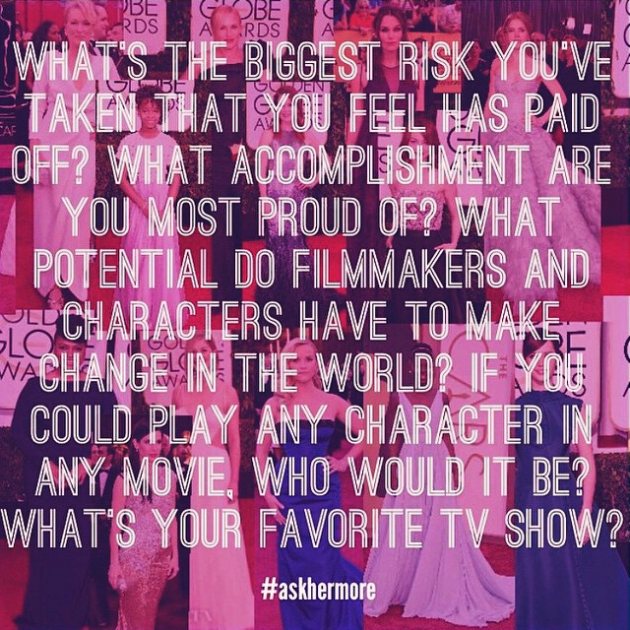 Reese Witherspoon's Instagram brought the already
popular #AskHerMore to an even bigger audience.
Yesterday during the Oscars, some of my friends and I were talking about #AskHerMore and what a terrific concept it is. One woman said she thought Reese Witherspoon made it up (after her Instagram went viral yesterday), and I was like,
No are you crazy it's been around for a long time, duh.
And she was like,
Oh, cool, tell me about it.
And I realized my hypocritical ass had little to no understanding of where the hashtag or the movement originally came from! Sure, I had been following it and enjoying mentions of it in all my social newsfeeds, but I didn't know what it was really all about it.
As you may know, #AskHerMore is a request to journalists and Red Carpet reporters to ask women more intelligent questions than "What are you wearing?" Throughout the award show season, people at home tweeted reporters and news outlets with their smart, touching, and engaging questions for various nominated women and tagged it #AskHerMore. To my happy surprise, I found out this morning after a little internet research that this originally comes from
The Representation Project
, a terrific organization that wants to use film as a way to break down gender stereotypes so that individuals can fulfill their potential.
The Representation Project is awesome and comes from a badass woman named Jennifer Seibel Newsom. You may know Newsom for her 2011 documentary that premiered at Sundance,
Miss Representation.
This site evolved from the success of that project and the overwhelming public demand for ongoing education and social action in the wake of that film.
Miss Representation
is available on Netflix right now - CHECK IT OUT.
You may be rolling your eyes or saying -
Why do feminists get so upset about evvvverything? Aren't women allowed to look pretty, and aren't we allowed to comment on that?
And it's true that the Red Carpet IS a time to get all glammed up and to celebrate! The trouble arises when you start comparing the questions that the hunky men are getting to the questions the sexy women are being asked.
Jennifer Garner described it best in a speech she gave at an Elle's Women in Hollywood event back in October. She told the story of a press junket she and her husb
and, Ben Affleck, jointly attended and the types of questions they were getting.
"We got home at night and we compared notes," she continued. "And I told him every single person who interviewed me, I mean every single one, and this is true of the red carpet here tonight at Elle, asked me, 'How do you balance work and family?' And he said the only thing that people asked him repeatedly was about the t**s on the 'Blurred Lines' girl, which, for the record if we're talking about them, they are real and they are fabulous."

Garner was referring to model Emily Ratajkowski, who appeared in Robin Thicke's "Blurred Lines" video and is Affleck's co-star in his latest flick, "Gone Girl."

After pausing for laughter, Garner continued, "As for work-life balance, he said no one asked him about it that day. As a matter of fact, no one had ever asked him about it. And we do share the same family. Isn't it time to kinda change that conversation?"
And last year at the SAG Awards, Cate Blanchett famously called out E!'s camera after it scanned her up and down, resulting in this, probably the best gif of all time:
So, yeah - there's a lot of evidence that points to the fact that women are treated differently than the men on the Red Carpet. And The Representation Project is just hoping that, by exposing this gender bias, we can all work together to lessen it!
So. LOTS of organizations and individuals have been using #AskHerMore
this awards season to motivate reporters to ask better questions, like
Smart Girls at the Party
,
Makers Women (SUCH good questions for all the nominees!)
,
Reese Witherspoon, UpWorthy, and a bunch of other great people
.
But perhaps the funniest outcome of this was when Buzzfeed flipped the script at the BAFTA Awards and asked a bunch of dudes questions usually reserved for women. You
should read it/watch it all here
(and I'm not going to spoil Michael Keaton's answers cuz they are quite humorous), but I do love this awkward moment when they ask Eddie Redmayne to twirl.
If nothing else, perhaps gender equality through Red Carpet questions will teach men how to turn around in an attractive yet not too revealing fashion, a skill all nominated women have (unfortunately) already been forced to master. #fingerscrossed
So that's your mini lesson on #AskHerMore! There are signs it's branching out of award shows and into other arenas (for example, it's being used for female athletes after this unfortunate twirling episode for
Eugenie Bouchard
), so hopefully the hashtag stays alive and well post Oscars.
Meanwhile, search it on twitter for lots more inspiring moments, questions, etc from last night!