Happy Wednesday! I'm a little late on today's post - I got distracted playing my husband's delightful
films on film puzzle
and folding baby clothes (this is the only time I'm going to enjoy laundry, so I have to take advantage).
Anyway, today we're focusing on some lovely ladies in honor of Women Crush Wednesday! Prepare to be totally enamored with these women...
1. Elizabeth Holmes.
Elizabeth. Is. Awesome. She is the youngest self-made person to make Forbes' Billionaires List (male or female). She's 31, and her net worth is 4.5 billion dollars. And what's more, she made her money because she saw a way to help people! Elizabeth's company, Theranos, came up with a way to analyze blood faster, easier, and at a lower cost. Something else I love about her is she didn't follow a traditional path; Elizabeth dropped out of college at 19 to start her business. She's a great example of doing what you think is right, instead of doing what others
think
you should do.
Read more about Elizabeth Holmes on
Hello Giggles here
.
2. Geena Davis.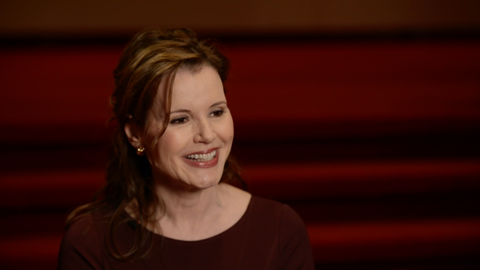 Obviously we know Geena Davis is a fantastic actress (and deserved an Oscar for
Beetlejuice
) and an advocate for gender education and research through the
Geena Davis Institute on Gender in Media
. She's ALSO the chair of the inaugural
Bentonville Film Festival
, a new festival championing women and diversity in film that debuts this May in Arkansas. The festival is pretty unique in that it's offering prizes like a domestic theatrical release and national distribution (crazy, right?). It's because the goal is to help ensure films represent the national audience, including women (we are 51% of the U.S. population) and the growing diversity of the population as a whole.
You can learn all about the festival (and why Geena got involved) in
this interview from KCRW's show
The Business
with Madeleine Brand. It's 16 minutes and totally worth it.
3. Lizzie Magie.
The dude who we all credit as creating the game Monopoly - Charles Darrow - actually stole the idea from a woman named Lizzie Magie! And thanks to Mary Pilon's new book
The Monopolists
, the truth is finally coming to light! Lizzie patented the game in 1904 as the Landlord's Game, and it was actually supposed to be an argument
against
the concentration of wealth, unlike the Monopoly we know and love (or kind of hate?) today. The game gained relative popularity in the United States, and when Darrow found out about it, he took the concept and sold it to Parker Brothers.
According to Pilon, Lizzie was pretty badass - she was a feminist, an actress, a poet, and a game designer. You can learn more about Lizzie in the book, or at the very least, listen to (or read)
NPR's interview with Mary Pilon
on the subject, It's really interesting! Like, way more interesting that the game of Monopoly itself.